Aqua Globes™ are an attractive solution for automatic houseplant watering.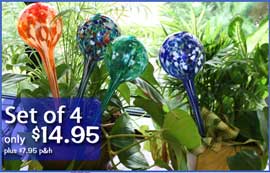 Fill he hand blown stained glass globes as the plant needs it. Aqua Globes™ are a great alternative to the daily chore of watering plants and an excellent choice for automatic watering while on vacation.



Automatically waters houseplants for up to 2 weeks

For indoor and outdoor potted plants

Hand-blown glass designs adds beauty to your plants

Includes gift boxes for sharing with friends & family

As soil becomes dry, it releases oxygen into the Aqua Globe, which in turn releases the exact amount of water your plant needs.
VISIT AS SEEN ON TV 4 LESS CYBERBRANDS.COM
AS SEEN ON TV